Safety and Security
window films hold glass in place during catastrophic events, such as terrorist attacks, inadvertent bomb blasts and foul weather. Increasingly, government and commercial building owners are protecting their glass with the installation of these films.
For more than 30 years, Commercial Window Shield has been the country's leader in glass protection. Our installation work can be found on a number of the country's most significant buildings.
Watch the short video to your left to see how security film works.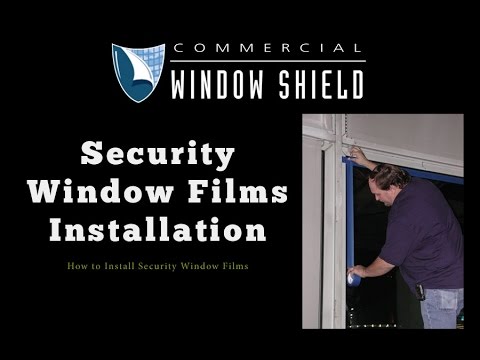 Security window films
are designed to increase the shatter resistance of glass. They are similar to solar control window films as they are polyester laminates, but they are usually thicker  ranging from 4 to 21 mils. A heavier, more substantial adhesive system also is used to affix the film to the glass.
Safety and security films can be clear or tinted to include a solar control component. These dual purpose films increase glass strength, help reduce utility costs and make the building more comfortable.
Oklahoma City Bombing Spurs Security Film Development
On April 15, 1995 a bomb planted by Timothy McVeigh in a rental truck detonated in front of the Alfred P. Murrah Federal Building in downtown Oklahoma City. The bomb blast killed 168 people and injured 680.
A number of those killed and many of the injured were the result of flying glass shards from the federal building and buildings located blocks away. [See diagram to the right for federal building location and impact of flying glass shards in multiple nearby buildings.]
As a result of this horrific incident, film companies began developing security films that, when properly installed, keep glass in place during catastrophic terrorist and weather events.  Commercial Window Shield has become one of the country's leading experts in the installation of safety and security window films, beginning shortly after the Oklahoma City bombing.
Security Film FAQ
Safety and security window films offer considerable protection against terrorist and catastrophic weather events by holding window glass in place at all times.
They are applied to the interior of building windows using an adhesive. Sometimes a special attachment system is used, which guarantees a more secure window.
Considering the cost ramifications from a catastrophic event in which a building's glass is blown out, injuring and possibly killing building tenants, the cost of security window film in minimal. Additionally, you can add a solar control component to any security window film which saves energy costs and offers a payback alternative that can negate the cost of the film over a number of years.
What Our Customers Say

The Installation Team Performed Above Our High Level Of Expectation. They Worked Very Efficiently And Completed The Project In Less Time Than Had Been Anticipated

William C. Salee, Project Manager

Rockwall [Texas] Independent School District


What Our Customers Say

"The film Commercial Window Shield installed looks really good. Your team did a really nice job. Thanks for the good work."

Alan Haskel, Director, Administration

Public Broadcasting Service


What Our Customers Say

"Not only was the work completed and done well, it was completed nearly six months ahead of schedule."

Phil Blum, Castle Construction

United Airlines Terminal, O'Hare International Airport


What Our Customers Say

Tom Conkling, Building Manager

Merrill Lynch headquarters, NYC


What Our Customers Say

"The project was a work of masterful coordination and an absolute success."

John Addonisio, Senior Project Manager

Vanderbilt Hall, Grand Central Terminal


What Our Customers Say

"Commercial Window Shield has been installing all types of window film for us for over 10 years.  They do a great job and are very responsive and helpful."

Matt Pope, Project Executive

HITT Construction


What Our Customers Say

"Your crew works as a well-oiled machine. They take their craft to the next level. Let's just say they are the best."

Tony Suszczynski, Emergency Preparedness Coordinator

USF/Shands [Fla.] Medical Center


What Our Customers Say

"You guys really came through when it was needed. Your quick response and professionalism were very much appreciated."

Charles M. Clancy

Pentagon Force Protection Agency


What Our Customers Say

Commercial Window Shield successfully completed the work on time.

Joe Neid, Project Engineer

FBI Headquarters