Why Our Customers Love Us
With more than 35 years experience, Commercial Window Shield is one of the nation's leaders in safety and security, and solar control window film installation. We've had extensive experience working with the federal government; commercial building owners and property management companies; and general contractors, engineers and architects on a vast number of film installation projects.
No one can solve your glass protection and solar control problem better  and faster  than Commercial Window Shield. Contact us today for a free glass analysis and quote.
Our Story
We began during the energy crisis of the late 1970s, when solar control window film emerged to help slash utility bills in buildings with considerable glass. After the bombing of the Federal Building in Oklahoma City in 1995, in which scores of people were killed or severely injured from flying glass, safety and security film was developed to hold glass in place during violent terrorist or weather events.
Commercial Window Shield quickly became one of the country's leading security window film installers. To learn why we've been successful for so many years, watch this video.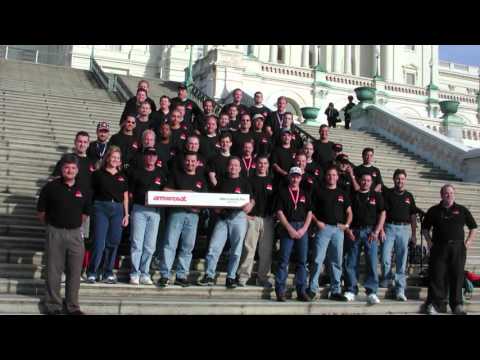 What Our Customers Say

"We originally subcontracted the security film installation work to another company, which backed out on us eight days before our deadline. Commercial Window Shield stepped in and completed the project in three days. The installation was meticulous."

Stephen Saieed, Owner

Masonboro Construction


What Our Customers Say

"Thank you for meeting our ridiculous time frame for the installation of the blackout window film at the Washington Convention Center."

Cathy Boles, Development Director

Washington Convention and Sports Authority


What Our Customers Say

The Installation Team Performed Above Our High Level Of Expectation. They Worked Very Efficiently And Completed The Project In Less Time Than Had Been Anticipated

William C. Salee, Project Manager

Rockwall [Texas] Independent School District


What Our Customers Say

"The film Commercial Window Shield installed looks really good. Your team did a really nice job. Thanks for the good work."

Alan Haskel, Director, Administration

Public Broadcasting Service


What Our Customers Say

"Not only was the work completed and done well, it was completed nearly six months ahead of schedule."

Phil Blum, Castle Construction

United Airlines Terminal, O'Hare International Airport


What Our Customers Say

Tom Conkling, Building Manager

Merrill Lynch headquarters, NYC


What Our Customers Say

"The project was a work of masterful coordination and an absolute success."

John Addonisio, Senior Project Manager

Vanderbilt Hall, Grand Central Terminal


What Our Customers Say

"Commercial Window Shield has been installing all types of window film for us for over 10 years.  They do a great job and are very responsive and helpful."

Matt Pope, Project Executive

HITT Construction


What Our Customers Say

"Your crew works as a well-oiled machine. They take their craft to the next level. Let's just say they are the best."

Tony Suszczynski, Emergency Preparedness Coordinator

USF/Shands [Fla.] Medical Center


What Our Customers Say

"You guys really came through when it was needed. Your quick response and professionalism were very much appreciated."

Charles M. Clancy

Pentagon Force Protection Agency


What Our Customers Say

Commercial Window Shield successfully completed the work on time.

Joe Neid, Project Engineer

FBI Headquarters

Kalmia Construction Hires CWS for Switchable Smart Film Installation Project
COLLEGE PARK, Md. – Kalmia construction of Beltsville, Md. has retained Commercial Window Shield for a switchable smart film window installati...
Wilmington GC Retains CWS For U.S. Attorney Security Window Film Project
July 27, 2022
WILMINGTON, Del. – Commercial Window Shield has completed a last-minute security window film installation project for a Wilmington contractor ...
Square feet of safety
and security film applied
Lineal feet of attachments applied